Voici le palmarès des Epica Awards 2022, prix de la créativité publicitaire décerné en direct online depuis Londres le 9 décembre par la presse internationale dont Radiopub faisait partie à nouveau cette année.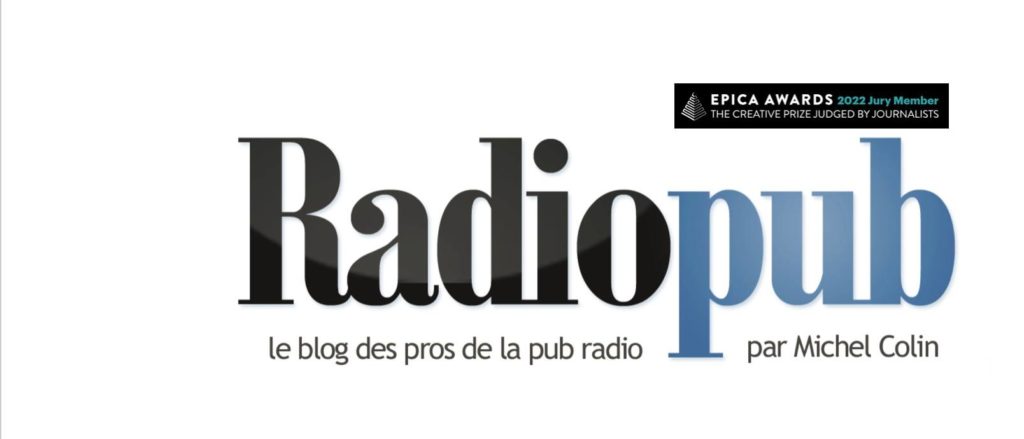 Le président du jury de cette année était David Griner, ancien rédacteur en chef international d'Adweek et co-fondateur de l'association à but non lucratif Creative Ladder, qui vise à apporter plus de diversité à l'industrie de la publicité.
Voir l'ensemble du palmarès 2022.
Voici les gagnants des Epica Awards 2022 dans la catégorie Publicité Radio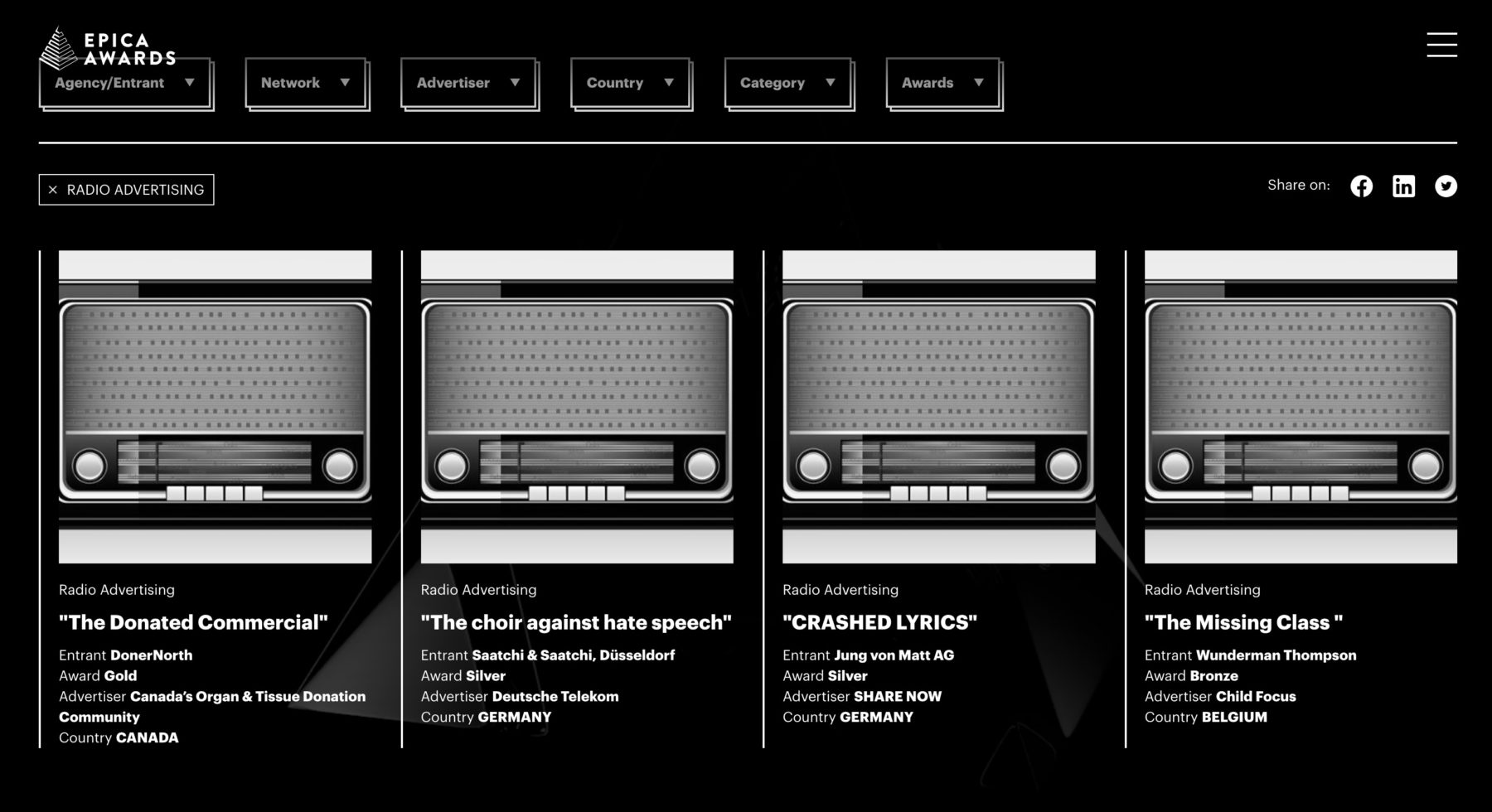 La campagne canadienne « The Donated Commercial » a remporté l'Or. Pour l'organisme de promotion du don d'organes, cette campagne a « récupéré »  des extraits de messages radio avec des mots et voix différents afin d'illustrer le fait que l'on peut reconstruire à partir d'éléments donnés.
L'argent a été attribué au spot « The choir against the hate speech« , une campagne orchestrée par l'opérateur Deutsch Telekom. Une « chorale contre les discours de haine » pour dénoncer la banalisation des propos haineux.
L'argent ex æquo  pour 3 spots de la campagne allemande « Crashed Lyrics », une sensibilisation audacieuse et originale à la conduite responsable financée par la société de co-voiturage Share Now. Sur une radio qui a accepté le challenge, les spots étaient diffusés en interruption de chansons dans lesquels la conduite rapide, les comportements à risques, figurent dans les paroles.
Le bronze a été remporté par la Fondation belge Child Focus qui traite les disparitions et l'exploitation sexuelle des enfants. Le spot met en scène l'appel des élèves dans une classe d'école, mais tous sont absents.
Retrouvez tous les gagnants de toutes les catégories sur le site https://www.epica-awards.com/

Près de 200 journalistes professionnels de la planète entière composent le jury des Epica Awards.
La particularité de ce concours de créativité publicitaire réside dans le fait que le jury n'est pas composé de professionnels hétéroclites de la création mais uniquement de journalistes de la presse spécialisée, dont Michel Colin, éditeur du site Radiopub.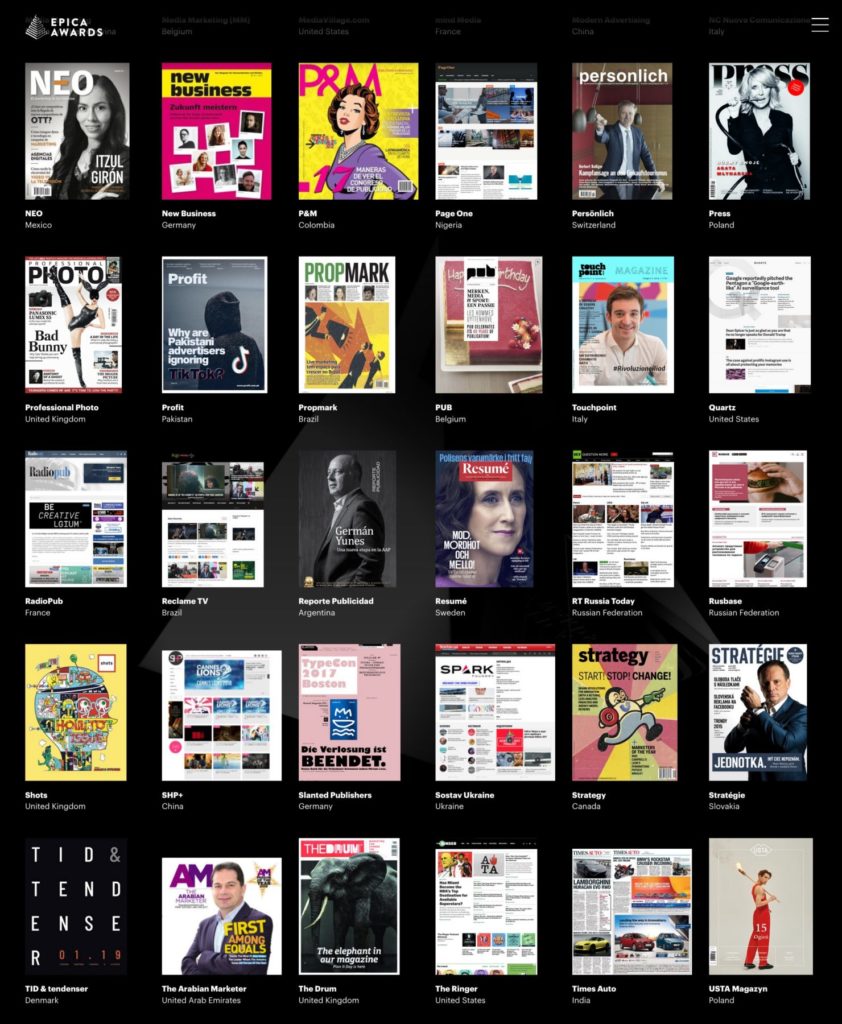 Voir l'ensemble du palmarès 2022.
Retrouvez tous les gagnants de toutes les catégories sur le site https://www.epica-awards.com/