L'étude réalisée par Le Bureau de la Radio et Ekimetrics a mesuré l'efficacité de la radio sur les visites de sites internet et les achats en ligne.
La radio est  un puissant levier drive to web.
Selon l'étude, les investissements radio sont 5 % plus rentables que la moyenne des investissements médias pour générer du trafic web. Deux exemples ont été mis en avant par Ekimetrics : la campagne radio d'un opérateur télécom s'est révélée 50 % plus efficace que les autres leviers offline pour générer du trafic sur son site, et celle d'un distributeur 40 % plus efficace pour générer des ventes e-commerce.
Plusieurs études (voir archives) avaient déjà démontré que le simple fait de communiquer en radio permettait de mesurer une augmentation des requêtes (recherches Google) et une progression des visites sur les sites internet des annonceurs. Un Adboost moyen estimé à plus de 30% !
La radio, utilisée en fil rouge, est un puissant outil de référencement.
Les auditeurs qui ont mémorisé une marque en top of mind peuvent venir directement sur le site web d'une marque, sans passer par la recherche Google. Cela évite d'amener le consommateur sur la liste des enseignes concurrentes. Lorsque le consommateur effectue quand même une recherche, le référencement radio donne aussi un avantage aux enseignes déjà connues qui auront plus de chance d'être cliquées.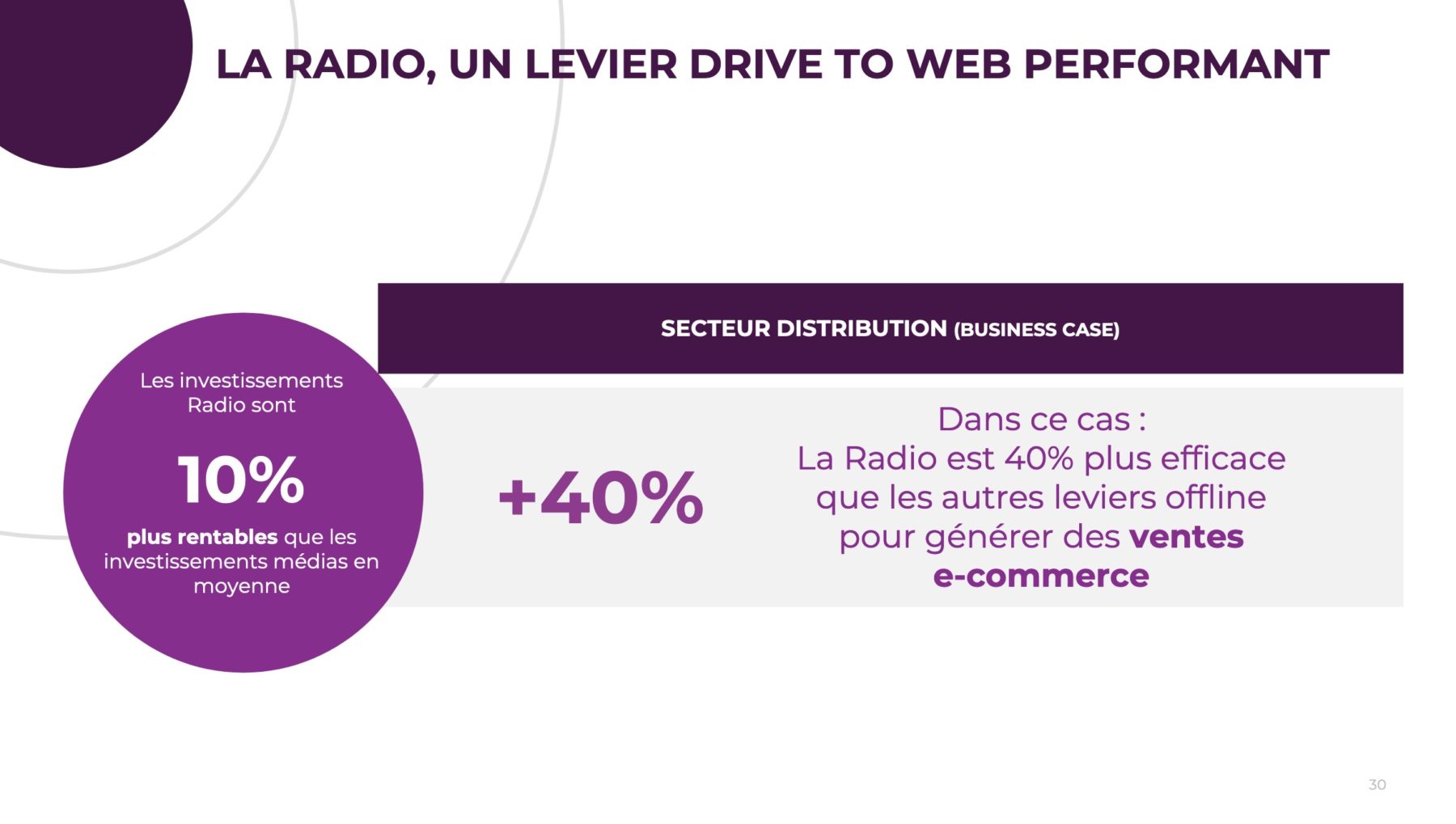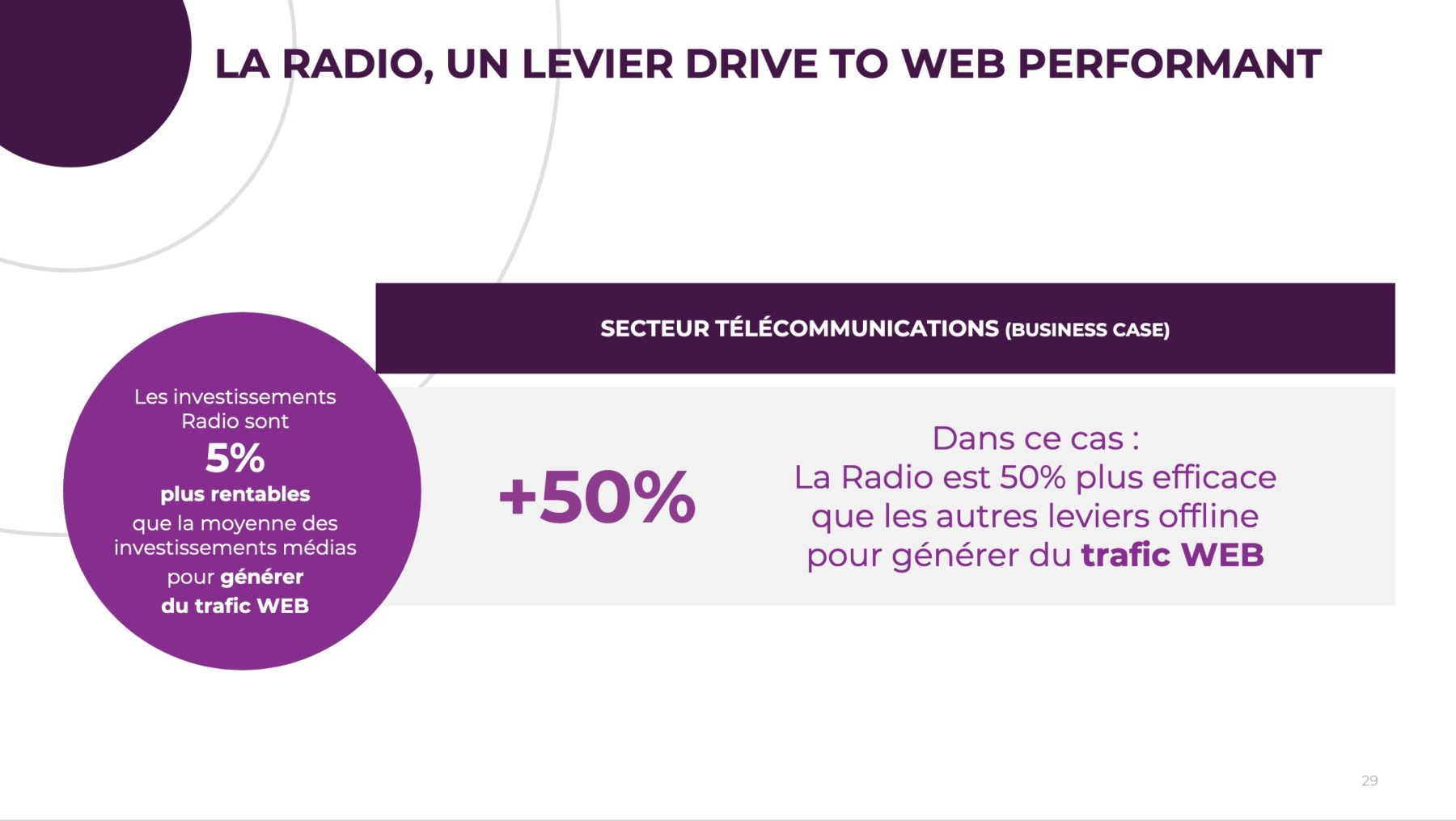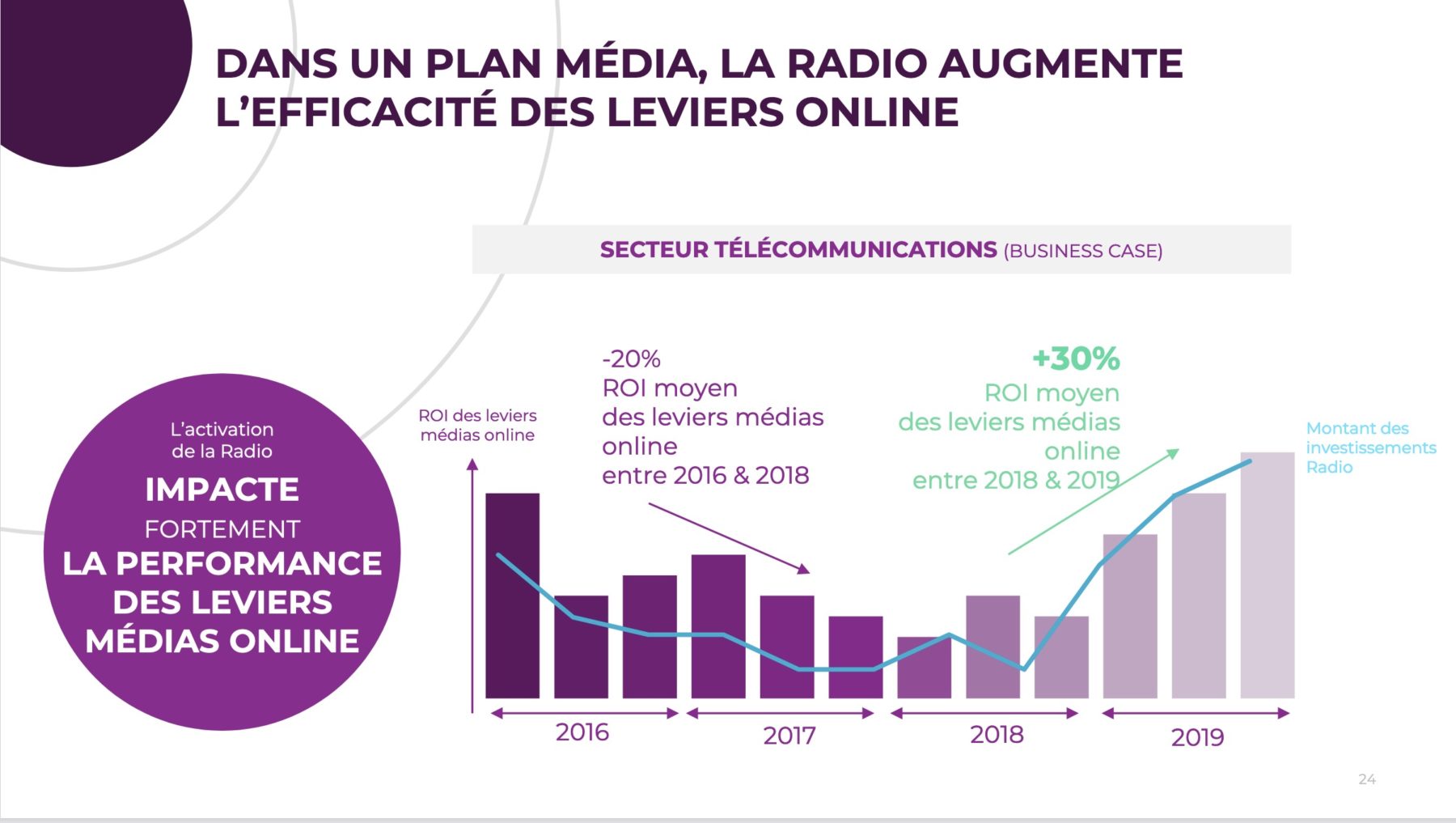 L'étude a été menée sur 4 secteurs (Automobile, Télécommunications, Produits de grande Consommation, Distribution).
Le Bureau de la Radio représente 4 grands groupes radiophoniques privés : M6 (RTL, RTL2, Fun Radio), NRJ (NRJ, Nostalgie, Chérie FM, Rire et Chansons), Altice Media (RMC, BFM Business, BFM Radio), Lagardère News (Europe 1, RFM, Virgin Radio).
La Commission Régie du Bureau de la Radio regroupe les régies M6 Publicité, Lagardère Publicité News, Altice Média Ads & Connect, NRJ Global, TF1 Pub.